Leni Miller is living a life she loves, a life in which she lives every day with enthusiasm and renewed energy.
She is meeting her life priorities, using her strongest talents, and upholding her values—every day.  She lives among a community of caring people, doing work she loves and for which she is perfectly suited.
How many of us can say that? Leni's goal in writing Finding Right Work has been to help make that dream a reality for everyone.
Some people seem to "just know" what work is right for them.  The road appears to simply unroll before them: acceptance at the school of their dreams, ideal apprenticeships and internships, their pick of job offers, and success all the way through to retirement and beyond.
But for most of us it is not like that.  And it has not been that way for Leni, either.
Leni's plans and paths
Years ago, Leni thought she had her life planned out.  She had married and was pursing a career that seemed natural, a career in which her background and education had prepared her.  And yet . . .
As you'll see in Finding Right Work, that first path isn't always the right path for the long term.  Like Leni and the people she interviews in her work and for the book, even the most wildly successful people run into road blocks and take detours (some intentional, some not).  And the world changes.
Job placement and search professional
As a job placement and search professional, Leni was hit hard by changes in economic cycles and workplace changes due to technology. Years ago, when large corporations began massive layoffs, businesses cut back, and media had nothing but doom and gloom predictions, Leni took another route.  She knew many people were transforming the crisis of losing their old jobs into vibrant new ways of working. She studied their successes and together with Sharon Gadberry, a friend in the outplacement business, developed a way to showcase the more optimistic side, the silver lining of the changing workplace and economic shifts. With a generous sponsorship from Intel Corporation, they co-founded and co-produced  "Home Sweet Office," TV shows featuring people who had successfully created new ways and places of working. Leni and Sharon found an abundance of people to interview, people who had made dramatic and innovative shifts by leveraging technology and their own creativity to build lives they loved.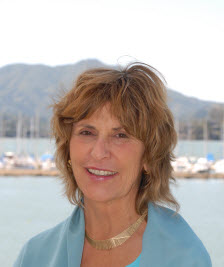 That's just what Leni has done, multiple times.  When faced with a particularly challenging personal and professional roadblock years ago, she decided to test some theories and practices she had been studying—and found that they worked beyond her wildest dreams. Thanks to that test, she now lives and runs her business from a spectacular floating home in California's Richardson Bay, with gorgeous views in all directions.
Is she blessed?  Absolutely.  Did she take an active role in making it happen?  Absolutely.
What Leni has created
As Leni says about work, housing, and life itself,  "What you can create is much more wonderful than what you left behind."  Certainly that's been the case for her, from childhood on up.
At age four, Leni lost her mother to polio. Leni's four grandparents stepped in to care for the children while Leni's father finished medical school. The tragedy of her mother's death ultimately became a gift of wisdom and sparked her motivation to make the most of each day. The family stayed close, an extended family, full of laughter and compassion.
Leni's impact
One Thanksgiving, Leni's brother Tom was contemplating what he'd do once he retired from his accounting job.  It wasn't many questions—in fact, it was Leni's famous "magic wand" question—that brought his answer to the surface.  He wanted to be a clown!  Soon after retiring, Tom moved his family from New Jersey to a town in Florida, a town that by great coincidence is a mere two miles from Ringling Bros. and Barnum & Bailey Clown College!
Tom has always been very, very funny.  Now he has the time and opportunity to fully utilize one of his strongest talents. Like Leni and so many of her clients and the people she interviewed, he'll be able to say, "I love what I do.  Can you believe I get paid for it?"
Leni hopes to make that sentiment real for more and more people.  In her search and job placement practice she guides people through the handful of steps she has uncovered and coached people through. Steps that lead through the process of determining and then finding or creating right work.
Leni's Right Work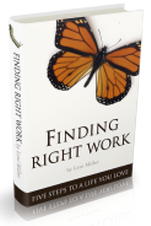 Leni has been in her right work for decades and loving it.  Over time, her inner voice guided her to write about right work and kept reminding her. And, in a way, the universe kept reminding her too.  Friends and clients often asked her to put her ideas about right work on paper or a blog, so that they could have a portable coach and guidebook on this journey. Ultimately, it was the thought of how many more people she could help through a book and a website that did it.  For part of her purpose in life is to pass it on, to inspire people to discover and create their own right work—as she now does in Finding Right Work: Five Steps to a Life You Love.
Leni knows that everything changes, flows to something different.  Yet many people fear change so much that they'd rather stay in wrong work than believe it's possible to find right work. Instead, Leni encourages us to take action. Why not steer your life in a positive direction by embracing change and participating with the full power of your strengths and gifts?
Visit EASearch.com for more information on Leni and EASearch's Executive Assistant search and consulting services.